My Erasmus+ Experience: Carlotta and Pascal live from Valjevo
Tekstovi vredni vremena za čitanje? Često su to oni koji nam daju drugačiju perspektivu. Jedna od njih je ona kako izgledamo u očima stranaca.
Takav je ovaj tekst – napisan iskreno, autentično i sa humorom, ali sa puno poštovanja i naklonosti, iz pera Carlotte Schmitz i Pascala Leyens-a, studenata master studija sa našeg partnerskog univerziteta Heinrich Heine iz Dizeldorfa koji provode zimski semestar akademske 2022/23. godine sa nama na fakultetu, kroz projekat mobilnosti Erasmus+.
Valjevo, Srbija
decembar, 2022.godine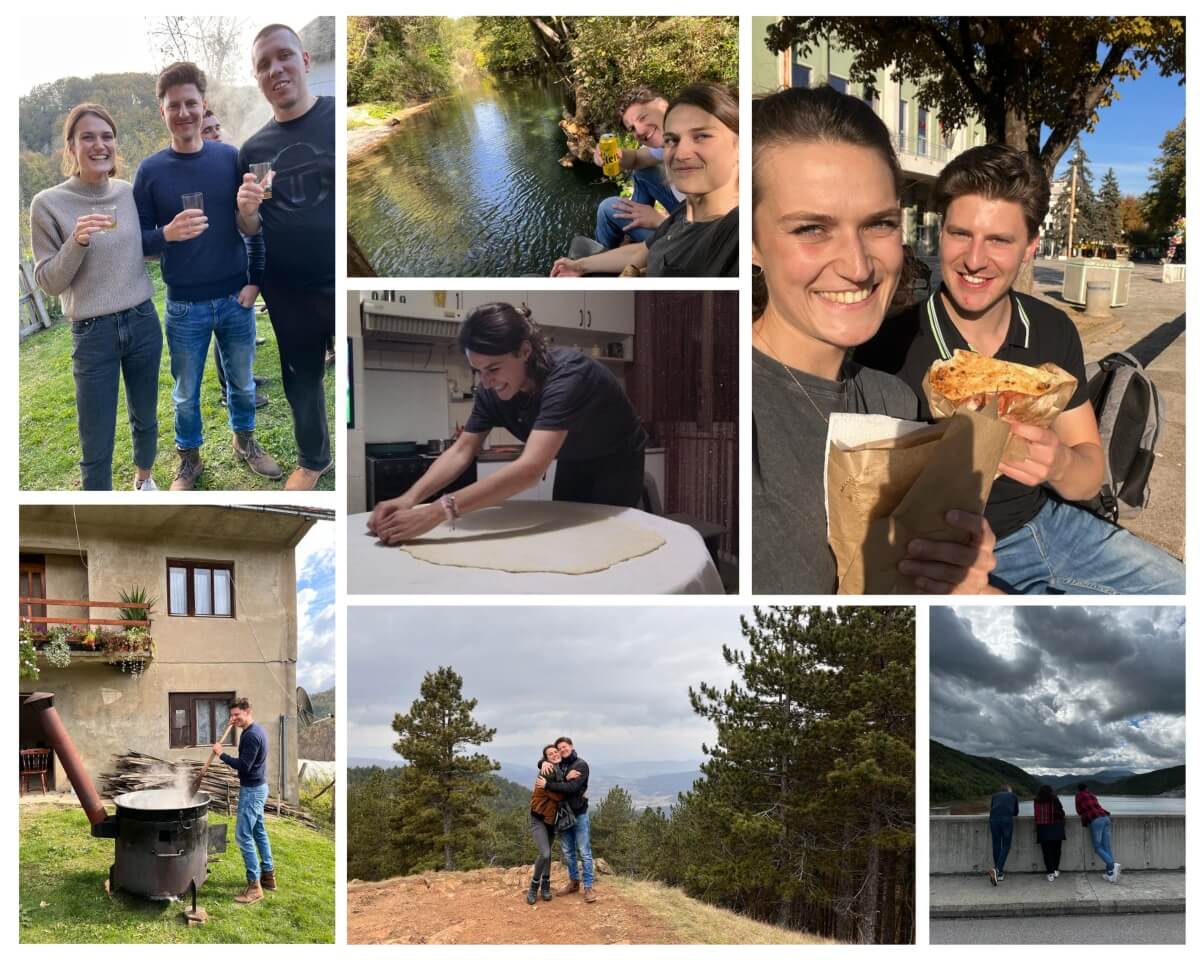 I didn´t choose Srbija as my preferred exchange destination – I applied for another place, that due to Corona wasn´t possible to travel to. As this got clear in the spring time of the year, the application period for other places was closed, it was too late. But our engaged Erasmus coordinator at our hometown university in Düsseldorf managed to make contact with Prof. Ivana Damnjanović, Vice-dean for international cooperation. When she offered a place for me to come even in that time late I was very happy – she made me feel very welcomed and stressed out that they would be happy to host us at Univerzitet Singidunum.
Now as I am here I have to say that not getting my preferred choice was a good thing to happen, a beautiful accident and I am happy to be here! I had no expectations about Srbija or Valjevo as I must admit I knew very little about the country before. But people here are very welcoming, warmhearted, and happy to show and to share anything about their culture, history, traditions and, not to forget, to share their self-made rakija. I made friends very fast and am so grateful for them helping me get along and showing me around, teaching me some srpski, showing me how to make burek and gibanica and so much more.
Valjevo itself is a rather small town. But with its bars, cafés, the natural surrounding and its proximity to Belgrade and Bosnia there is always something to do and to explore. We went on a weekend trip to Sarajevo, went hiking on Divcibare and already have plans for some more trips.
Academic life is different from the one in Germany. Professors are very open and interested – in us, in helping us having a good stay and in managing to find a good way to organize courses as we attend them outside the usual master program, that just started recently, so we could start earlier. I am really enjoying the talks and the exchange of views with all the professors, that are giving us insights in the Serbian way of things – on and off topic, good and bad things.
In the beginning I was somehow a little concerned that there were no exchange students besides the two of us from Düsseldorf as it wouldn´t be the Erasmus exchange everybody knows. But I think that's also what makes it special as we really get in touch with the people from here – for me that really is extraordinary! I am happy that there is still enough time to experience more, meet more people, eat some more ćevapi and try all the self-made rakija!
Carlotta
No mask obligation on the plane from Düsseldorf to Belgrade – how nice. After I was briefly astonished with how much field is around Belgrade and I wondered where all the people lived, I was glad that I had landed well.
Of course, I forgot to turn off my roaming and after 70€ I got a notice that my data volume was used up.
To write this experience report realistically it is necessary to bring some bad memories, otherwise nobody would believe me. However, the next ones should wait for now.
From the capital to Valjevo it is about 100 km, not that much I thought. In the end it took much longer, and I realized the road network is somewhat "different" from the one in Germany.
On the 28th of September I stepped on Valjevo's soil for the first time. A small step for me a big step for Valjevo, because I had the impression that I had been the only tourist in this city at this time.
I have been living here for two months now. Time flies, my lungs got used to the bad air and the cigarette smoke and when I at last found out why they order "kafu" instead of "kafa" in a café, I really felt at home.
Maybe that is also why Valjevo has few tourists, because all foreigners feel directly nationalized. At least I can imagine that, because everybody here was in fact welcoming to me and I was able to connect easily.
From an academic point of view, I can only report good things. The professors are very competent as well as friendly at the same time. I particularly noticed that the interaction with the students is much more cordial than I was used to in Germany. I have also taken part in two language courses at the university. From my point of view, the teaching approach there was also better, and the lessons were much more interesting and interactive. I enjoy participating in these events, even though they are not required for my academic success.
For sure I would have met much more exchange students at other Erasmus locations. However, especially when it comes to making friends, it is not the quantity that matters, but only the individual personalities.
Thank you Valjevo for allowing me to stay a little longer.
Pascal